This page is for Charlie (kid), the boy at Woodstick. For the talk show host, see Charlie (talk show host).
Charlie is a guest who attended Woodstick with his mother.
History
He and his mother attend the Woodstick festival in "The Love God," and are terrified by the descending hot-air balloon accidentally released by Stan and Soos.
Personality
Timid and innocent, Charlie expresses paralyzing fear towards the Stan balloon, and demonstrates a sense of comfort and security when with his mother.
Appearance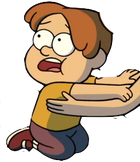 Charlie is quite young, appearing to be around four or five years old. He has uneven brown hair and wears a yellow shirt, gray pants, and large red tennis shoes.
Sightings
Ad blocker interference detected!
Wikia is a free-to-use site that makes money from advertising. We have a modified experience for viewers using ad blockers

Wikia is not accessible if you've made further modifications. Remove the custom ad blocker rule(s) and the page will load as expected.