Cursed Doors are a type of door in Gravity Falls, Oregon.
History
During his study of Anomalous Phenomena in Gravity Falls, Ford Pines noticed several doorways in the town that appeared to be cursed, observing tourists seemingly disappear upon entry into them. His investigation led him to believe there was a connection with the luna cycle, and that any door bearing the number 13 was automatically cursed. Ford seemed especially disturbed that only the town locals were truly aware of which doorways were safe to use, and made note of writing a letter to the tourist bureau about warning future visitors.
Season 1
In "Tourist Trapped," their entry in Journal 3 appears alongside various others as Dipper flips through the pages of the journal.
Season 2
In Ford's flashback, a cursed door is seen in his room in "A Tale of Two Stans."
Appearance
On the outside, they look like any other door. However, once opened, it is revealed that they emit light and have faces.
Sightings
Trivia
In Rumble's Revenge, 13 Main Street is a known cursed door that appears in the final level of the game. Dipper and Mabel use a cursed door in PinesQuest to begin the game.
Gallery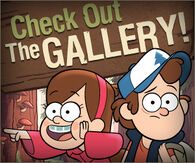 Click here to view this page's gallery.
Ad blocker interference detected!
Wikia is a free-to-use site that makes money from advertising. We have a modified experience for viewers using ad blockers

Wikia is not accessible if you've made further modifications. Remove the custom ad blocker rule(s) and the page will load as expected.