Gorney
Talk

0
780pages on
this wiki
Gorney
Background information
First episode
"Summerween"
Latest episode
"Scary-oke"
Voice
Grey DeLisle
Inspiration
Honors and awards
Character information
Full name
Other names
Appearances
2
Age
Occupation
Affiliations
Goal
Home
Gravity Falls, Oregon
Relatives
Pets
Allies
Minions
Enemies
Summerween Trickster
Likes
Candy[1]
Dislikes
Powers and abilities
Weapons
Fate
Quote
"I've been twamatized!"
Signature
[Source]
Gorney is a trick-or-treater who arrived during the first confrontation between the Summerween Trickster and the Pines twins. He was promptly eaten after introducing himself.
History
He came to the Mystery Shack on Summerween to trick-or-treat and introduced himself in a friendly manner. Unfortunately, at the time, the Summerween Trickster was threatening Dipper, Mabel, Grenda, and Candy, and used him as an example of what would happen to them should they not do what he said. Gorney was swallowed whole while shouting to the others to "Remember me!"
After the Trickster was killed he appeared from its body, physically unharmed, but most certainly traumatized, as declared in his friendly shout.
Personality
Gorney is quite friendly and enthusiastic. After being eaten by the Trickster, his demeanor hadn't changed, leaving a rather horrific undertone. Gorney is "twamatized" (traumatized), from being nearly digested inside the Summerween Trickster.
Appearance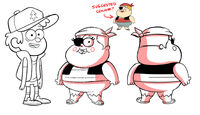 Gorney is a short, chubby, child with rosy cheeks, fairly long lashes, and buck teeth. He has light brown hair, and is seen wearing a pirate costume for Summerween consisting of an eye-partch, a bandana, a small vest, torn shorts, and sandals.
Sightings
Quotes
"Twick or tweat! My name is Gorney!"
-Gorney introducing himself
References