Jason Ritter, (born on February 17, 1980) is an American actor, son of the late actor John Ritter, and actress Nancy Morgan. Ritter is best known for his role as Kevin Girardi in the television series Joan of Arcadia, and Sean Walker in the NBC series The Event. He currently plays the recurring role of Mark Cyr in the NBC television series Parenthood, for which he received an Emmy Award nomination.
He starred as Dipper Pines in Gravity Falls. He cosplayed as his character during SDCC '13. Ritter has demonstrated his love and appreciation for the show on a number of occasions as he wore his "Dipper Hat" to Panels.
Early life
Ritter was born in Los Angeles, California, the son of Nancy Morgan and the late John Ritter, and the grandson of musician/actor Tex Ritter and Dorothy Fay. His stepmother is Amy Yasbeck. He has three siblings: Tyler, Stella, and Carly Ritter.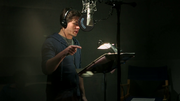 Ritter attended middle and high school at the Crossroads School in Santa Monica, California with Simon Helberg, who would be his roommate at NYU. He then attended and graduated from New York University's Tisch School of the Arts, where he studied at the Atlantic Theatre Company. He also studied at the Royal Academy of Dramatic Art in London.
See also
External links
V - E - H - D
Gravity Falls Staff
Ad blocker interference detected!
Wikia is a free-to-use site that makes money from advertising. We have a modified experience for viewers using ad blockers

Wikia is not accessible if you've made further modifications. Remove the custom ad blocker rule(s) and the page will load as expected.