The "Mobius chicken strip" is an allusion to the Möbius strip.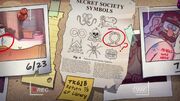 One of the "secret society symbols" is Oroborus, a serpent eating its own tail, in a lemniscate.
Another one of the secret societies of "owl worshipers" alludes to the Bohemian Club, which "worships" a 40 foot owl statue at Bohemian Grove, ironically located not too far from Piedmont, CA.
The mailbox tells Dipper that the end of the world is in 3012, this is a reference to the apocalyptic theory based on Mayan calendar that the world would end in 2012.
The Hide Behind creature is a reference to a creature from American folklore know as the Hidebehind.
The stick the Hide Behind is said to be hiding behind ressembles the Stick commonly seen in Homestar Runner cartoons.
The Aztec text's story about a talking dog and its ability to play basketball is a reference to the 1997 movie Air Bud and its sequel, including Air Buddies and Santa Buddies.
Mabel's scrapbook cover has a sticker of Kilroy looking over a watermelon and with the world "smile".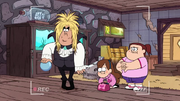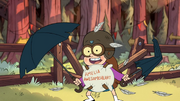 Mabel's costume while experimenting on flight, and the words "Amelia Awesomeheart" is a reference to American aviation pioneer, Amelia Earhart.
Soos' last line, "I make my own economy," could be a reference to the opening scene of Shakespeare's play Julius Caesar. In that scene, there is a parade going on to honor Julius Caesar. A cop asks a shoemaker about the parade, and the shoemaker says he started it. He reasons that if people are marching in the parade, they will wear out their shoes, allowing him to step in and make new ones.
None
The title screen of "Teenz Talk" is a reference to The Fresh Prince of Bel-Air, hence the colors of the spray paint.
Both shorts start with Mabel in a rocking chair by a fireplace, a homage to Masterpiece Theatre.
One of the films playing at the movie theater is called "Toy Storage 2," a reference to the Disney/Pixar film Toy Story 2.
The Ragtime Theater is a reference to the Ragland Theater in Klamath Falls, Oregon.[1]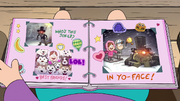 The picture of Mabel surrounded by dogsled dogs is in the exact arrangement of one of the posters for the 2002 Disney movie Snow Dogs, with Mabel taking the place of the Cuba Gooding Jr.'s character, Ted Brooks.
References
Ad blocker interference detected!
Wikia is a free-to-use site that makes money from advertising. We have a modified experience for viewers using ad blockers

Wikia is not accessible if you've made further modifications. Remove the custom ad blocker rule(s) and the page will load as expected.