Reginald and Rosanna
Talk

0
497pages on
this wiki
Reginald and Rosanna
Background information
First seen
"Tourist Trapped"
Last seen
"Boyz Crazy"
Voice
Inspiration
Honors and awards
Character information
Full name
Other names
Personality
Appearance
Age
Occupation
Affiliations
Goal
Home
Gravity Falls, Oregon
Relatives
Pets
Allies
Minions
Enemies
Stan Pines
Likes
Fishing[1]; Pinball[2]; Gideon[3]
Dislikes
Marriage jokes[1]
Powers and abilities
Weapons
Fate
Possibly engaged or married[1]
Quote
Reginald: "Now that we're alone, Rosanna, there's a burning question my heart longs to ask of you."
Rosanna: "Oh, Reginald!"
[Source]
Reginald and Rosanna are two recurring background characters who are a couple in Gravity Falls.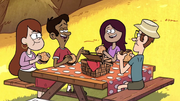 The couple are first seen eating at a picnic table in the beginning of "Tourist Trapped."
They are formally introduced when Reginald tries to propose to Rosanna in "The Legend of the Gobblewonker" while the two are "fishing" together. However, he is interrupted by Grunkle Stan, who annoys them with his pessimistic opinions about marriage.
They are seen angrily leaving the re-opening of the Gravity Falls Wax Museum in "Headhunters."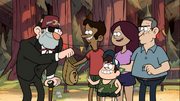 In "The Hand That Rocks the Mabel," they are both seen putting money into Stan's "Sack of Mystery." and then later seen walking to the Tent of Telepathy and watching Gideon's show, where Rosanna catches Gideon's cape when he throws it to the audience. They are also seen eating at the restaurant where Gideon and Mabel are having their date.
Only Rosanna is seen in "Irrational Treasure," watching the Pioneer Day ceremony.
In "The Time Traveler's Pig," Reginald and Rosanna appear in the background at the Mystery Fair. They are also seen in the "Tunnel of Love and Corn Dogs."
In "Fight Fighters," Reginald plays pinball at the Arcade.
In "Little Dipper," Reginald can again be seen at the Bud Gleeful's car dealership among several other customers, wanting to buy a car.
In "Boyz Crazy," Rosanna can be seen at the Sev'ral Timez concert at the Gravity Falls Civic Center and Buffet.
Sightings
Edit
Reginald

Rosanna

Click here to view this page's gallery.
References