I need your help.
This article is a stub. You can help the Gravity Falls Wiki by expanding it.
Soos' Stan Fiction is a short segment shown during the commercials of episodes of Gravity Falls. They involve Soos describing the fan fiction stories that he'd like to write about Stan and Ford while they are off exploring and having adventures. The stories he describes are shown with cardboard cutouts and backgrounds.
Intro
Original
What's Mr Pines and his brother up to-s?
Here's some Stan fiction written by Soos...
Alternative
Uh oh... Who is it...?
Mr. Mystery!!!
With some mysterious FACTS!
Or fiction are they...?
Videos
Gallery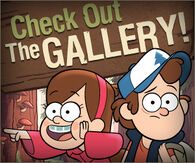 Click here to view this page's gallery.
Ad blocker interference detected!
Wikia is a free-to-use site that makes money from advertising. We have a modified experience for viewers using ad blockers

Wikia is not accessible if you've made further modifications. Remove the custom ad blocker rule(s) and the page will load as expected.