This page is for Steve, a tree-like behemoth. For the gnome, see Gnomes. For a mechanic lives in Gravity Falls, see Steve (human).
"Steve"[1] is a giant tree-like behemoth living in Gravity Falls.
Appearance
Steve doesn't make an actual physical appearance, except for its own hand which is made of brown tree bark and its foot which appears in one of the first few promo images for the beginning of the series.
History
In a promotional poster for Gravity Falls, Dipper and Mabel are seen climbing over a tree formation that takes the image of a gigantic human foot.
In "A Tale of Two Stans." When Ford came to investigate the town of Gravity Falls hoping to get answers, just as he began to wonder what he would find there, the unseen monster's hand grabs his car and pulls it into the woods, which encourages Ford believes.
Sightings
Trivia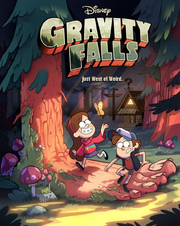 In the promotional poster of Gravity Falls, Mabel and Dipper are seen climbing over the roots of a tree that are formed into the shape of a human foot.
References
Ad blocker interference detected!
Wikia is a free-to-use site that makes money from advertising. We have a modified experience for viewers using ad blockers

Wikia is not accessible if you've made further modifications. Remove the custom ad blocker rule(s) and the page will load as expected.