Sue is a greeter at the Gravity Falls Museum of History.
History
On Pioneer Day, Sue greets Mabel and Dipper Pines by giving them pink and blue balloons. Later she gives a blue balloon to Sheriff Blubs, and apologizes to Deputy Durland with regret, as they had run out of pink balloons.
Appearance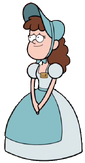 Sue has medium length curly, fluffy brown hair and a few small freckles on each of her cheeks. She is seen wearing a Pioneer Day-styled light blue gown with puffy sleeves, with a sky blue apron and matching bonnet, which is tied around her neck with a bow of the same color. She also has a yellow name tag.
Sightings
References
Ad blocker interference detected!
Wikia is a free-to-use site that makes money from advertising. We have a modified experience for viewers using ad blockers

Wikia is not accessible if you've made further modifications. Remove the custom ad blocker rule(s) and the page will load as expected.