Tambry
Talk

0
497pages on
this wiki
Tambry is one of Wendy's friends who appears in "The Inconveniencing." She rarely looks up from her phone, either texting or updating her status.
Tambry is seen as one of Wendy's friends throughout "The Inconveniencing." She goes with them to the abandoned Dusk 2 Dawn convenience store, but hardly interacts with the other teenagers, preferring to stay on her phone. In the store, she texts instead of partying, although Wendy noticed that she looked up from her phone more than usual which means she is having fun. She is the first person to disappear once the ghosts attack, ending up trapped in a security monitor because they didn't like normal teenage things like texting. Before she gets trapped, she changes her 'status' to "Ahhhhhhhhhhh! <3 <3 <3" Dipper later saves her and rest of the teens by doing the Lamby Lamby Dance for the ghosts.
Tambry has small appearances in several of the shows like when she makes a cameo in "
Dipper vs. Manliness
" at the diner, texting while in a booth.She also is shown in "
Double Dipper
" as one of the people watching
Mabel
and
Pacifica Northwest
compete for the Party Crown, and partying herself in the background. In "[[The Time Traveler's Pig|Th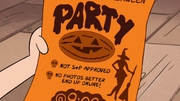 e Time Traveler's Pig]]", Tambry is seen riding the ferris wheel with
Thompson
at the
Mystery Fair
.
Robbie
and Wendy mention her in "
Summerween
," saying that they are going to a party at her house. In "
Boss Mabel
," she is seen at the
Mystery Shack
, hanging out with Wendy.
Personality
Edit
Tambry is in many ways a very stereotypical teenager. She enjoys texting and using social networking sites[2] even more then other teens, and barely looks up from her cell phone.
Appearance
Edit
Tambry has light brown skin and short purple hair with a pink highlight. She wears a purple and white shirt with a purple skirt, light purple leggings, and black boots, along with two black earrings. She also carries around a black flip cell phone that takes up most of her time[2]. She carries a black handbag in "The Inconveniencing."
Sightings
Edit
Some TV captioning misspell her name as "Tambri" instead of Tambry.
Wendy said "I've never seen Tambry look up from her phone this long before" when she looked up for about a second, but earlier in the episode when Wendy had just came Tambry wasn't even on her phone.
Jessica DiCicco who voices Tambry, also voices Flame Princess from Adventure Time and also voices Roxxi and Fianna from Bratz.

Click here to view this page's gallery.
References