The bald biker is a resident of Gravity Falls, Oregon.
History
Season 1
He can first be seen in the episode "Headhunters," in the Skull Fracture Bar, together with the Biker.
He reappears in Dipper's "Voice Over" story in "Bottomless Pit!."
Season 2
In "Scary-oke," he attends the "Mystery Shack is Back" party.
In "The Stanchurian Candidate," he is at the town meeting to discuss the new mayor, at the bar listening to Stan's radio interview, and among the voters throwing bird seed during the Friday debate.
In "Weirdmageddon 3: Take Back The Falls" he is stacked in Bill's Throne.
Appearance

The biker is bald, has a big orange mustache, wears a red headband, brown pants and a green shirt with a dog head on it, with the heading "Tub Pup." On his arm is a tattoo of a stormcloud.
Sightings
Gallery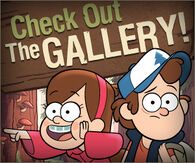 Click here to view this page's gallery.
References
Ad blocker interference detected!
Wikia is a free-to-use site that makes money from advertising. We have a modified experience for viewers using ad blockers

Wikia is not accessible if you've made further modifications. Remove the custom ad blocker rule(s) and the page will load as expected.